Uttam Teron through his Parijat Academy has relentlessly become the torch bearer in educating and shaping the lives of hundreds of under priviledged children since 2003
Gunjan Sharma
Like every tree requires a strong foundation so does a child is what Mr Uttam Teron believes. Not only does he believe this but he has been working on it since 2003. Not all heroes come with a cape or special power some come with the motivation to work and make this world a better place to live and Mr. Terron is one of them. Mr. Uttam Teron born and bought up in Pamohi village in the Kamrup district of Assam, has been educating children and making people aware of education in his village and the nearby areas. The school is now covering nine tribal villages – Pamohi, Mahguapra, Deosutal, Garchuk, Mainakhorong, Dhalbama, Nowagaon, Garoghuli, and Garbhanga.
In 2003 Mr. Terron started Parijat Academy initially with four children in a cowshed with a desk and bench from the 800 rupees that he saved after teaching students. He started it as a small learning centre. In the first year he took one hour classes and later extended to three hours. "I started the school in the first place because I saw children uselessly sitting around and not studying; I used to wonder why they are not studying. When I started my main motive was to make children curious about education and its importance in their lives. I wanted them to be interested in studies and later join the government schools. If they didn't enjoy my teaching I would change my strategy so that they could enjoy. I even tried to dance and sing even though I was not a professional" said Mr Teron. People saw the potential in him and asked him to start a school. That is when he extended his one hour class to a full-fledged school. Today the school is affiliated to the state board and having classes up to 10th standard.
'Parents are reluctant to send their children to school as most of the students are drop outs. Some parents don't understand the importance of education while some feel that it's better if the children learn to work as it will be good for their livelihood' said Mr. Teron.
But because of Parijat Academy the people of the Pamohi village and the neighbouring villages understood the meaning and importance of education. It is an Assamese medium school so it is easy for the parents to understand what their children are being taught. Mr Teron's main motive is making students wanting to learn so that later they can opt for further studies and become a responsible citizen. Parijat Academy is a non-profit school and runs only on the donations given by the people. The children do not pay to the school they only manage for their own uniform. Today more than 500 children study in this academy with around 28 working staff.
We generally talk about Right to Education, its importance and how every child should be given education but Mr Teron preferred to work for it and make it happen. He believes in deeds not words. When asked if this was his plan in life he said 'Teaching is not my cup of tea, I just wanted children to study and do good in life, develop the qualities of kindness, compassion and universal responsibilities, be respected and respect others and not roam around aimlessly. I never planned on opening a school'. Parijat Academy is providing free education and it is on its way of realizing the dreams and aspirations of poor parents into reality with support of individuals and associations.
The school has a library to enhance the curiosity of the students to read. Basic level computer knowledge is given to the children. The school arranges health check-ups for the children with the help of individuals and associations. The Head Mistress of the Academy Mrs. Aimoni Timung, wife of Mr Teron told us about their food bag programme. Every month the school provides food bags to poor children. Along with that Lordsai.com runs a Milk Programme in the school. Under this programme pre-primary level students are provided with milk and biscuits every day. Around 90 children are daily given milk under this programme. Other than that monthly meals are also served to the students of the school. Sometimes individuals and associations come up to the academy to celebrate events and spend some time with the students.
The school also runs a Sewing school where interested students are taught to sew and even make a livelihood out of it. They are being taught to make bags, soft toys etc.
Volunteers from India and even abroad come over to the academy and teach the children. They teach them art and craft, games etc. These volunteers communicate with the school authorities and come up creative activities which they can teach the children. Some volunteers even learn Assamese so that they can communicate with the children. The volunteers who come to Parijat Academy stay at the school hostel with the staff and students. More than 150 volunteers from around the world have come over to the academy in order to work and help. One of them is 'Days for Girls International'. This association basically works for empowering women and girls worldwide through sustainable menstrual care and health education. The volunteers from this association taught the members of the school of make sustainable sanitary pads which can be reused.
Now the Parijat Sewing school under Mrs Timung's leadership makes sustainable sanitary pads and sells them. These pads are made of cotton and cloth. The school has even distributed these pads free of cost to the women of Garbhanga village. Village women and girls are also a part of this sewing school as it also gives employment to a few of them.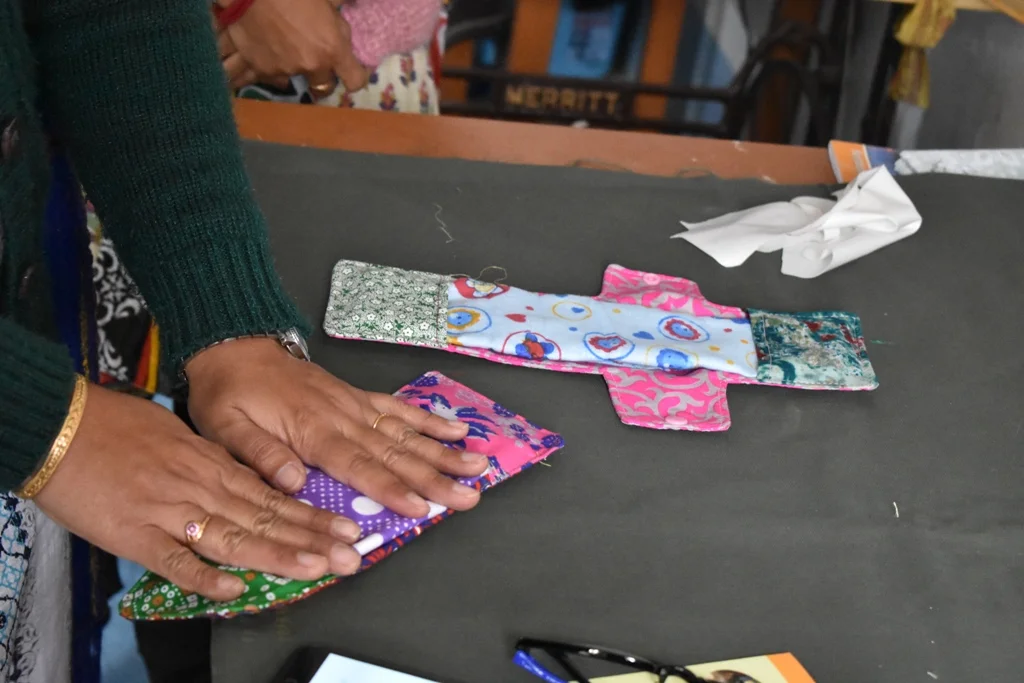 The school is also working on Project Garbhanga. Under this project students from remote state border areas and Garbhanga village are bought to the school for their education. These children stay in the Parijat Hostel. As of now around 63 students stay in the hostel free of cost. Some of them are even college going students. Recently a student of Parijat Academy got a job in Assam Police and now is under training.
Mr. Teron also spoke about the difficulties the academy goes through when there is lack of funding. Sometimes they are even unable to pay the school staff for months. Raising funds and convincing people is not an easy job but they try their best. And there are some donors who have never visited the academy yet they donate whatever they can. The school accepts old clothes, books, furniture, toys, socks, laptop, television etc. of good condition for the school children and adults.
When asked about his future plans he said that he has none. He wants to go slow. When asked if he gets a huge amount of funding what he will do, he said "it sounds like a utopian idea to me but if it comes true I want to make the school up to class 12 and want to make science, maths laboratories and better learning facilities for the children".
Mr. Teron was in his 20s when he started Parijat Academy with the handful of money he had. He had a thirst to make a difference in the lives of these children. Most of us can only talk about educating children and doing something for the society but when do we work for it? One can shape the lives of children not by talking but by working for them like Mr Teron; his wife Mrs Timung and the whole team of Parijat Academy has been doing. People like him inspire us to gear up and work for the betterment of the society. This is the time to act for the society and people who are in need and not just to speak on the problem we perceive.